INFORMATION PAGE
Argan oil is non greasy and instantly absorbed by hair which reduces drying time. It nourishes and moisturizes hair which enhances styling; hair becomes softer and shiny. Argan oil is very gentle because it is completely natural and does not contain any chemical additives; it is safe for anyone to use.

The properties of Argan oil make it very beneficial for hair, it is moisturizing for all hair types including dry or coarse hair and is safe for color-treated hair.

Application of Argan oil reduces frizz and breakage. It is advantageous if using curling irons, hair dryers, etc. for hair care maintenance. It helps to reduce hair damage that is caused by heat. Many hair stylists recommended Argan oil because it helps in healing and restoring damaged, weak and dry hair that occurs due to pollution, lifestyle, ultraviolet rays from sun, harmful chemicals etc. For curly hair, Argan oil helps in shaping and controlling wayward hair.

Argan oil should be used on a regular basis. It will keep your hair healthy and shiny. The nutrition provided by Argan oil will enrich your cuticles without weighing them down. Because of these features, Argan oil is very popular for hair care.



For more info: Argan Oil Reviews
---
Many of our soaps are Celiac compatible, made with only ingredients that are known to be allergen free. These soaps are not made with wheat products, nut oils, soy, corn, Vit E or other known allergens. Additionally, al of our soaps are made in a gluten-free environment. Please let us know if you have any questions about product ingredients.
---
Analgesic (pain-relieving)
Anti-inflammatory.
Circulation.
Toxin elimination.
Consistent inhalation (via diffuser) as well as bath therapy, compresses and application as a body oil (diluted with carrier oil) are all recommended and should be done consistently.
It is acceptable to use aromatherapy in conjunction with medication.
Recommendations: Reduce the intake of red meats and refined foods; Evening Primrose Oil supplement for rheumatoid arthritis; improve digestion with digestive enzymes, apple cider vinegar; increase consumption of cold water fish.
Massage joints with Essential oils (Body/Massage Oil: Arthri-Sore) ... EOs ease the anti-inflammatory response in the body, making them especially useful in treating back pain as well as arthritis and similar conditions. In addition, there are a number of oils that have profound effects on the nervous system. Stress overstimulates the sympathetic nervous system and forces the muscles to tense up and, eventually, to shorten, adding to the pain of many arthritic conditions.

**Certain essential oils, when inhaled, can help to bring the sympathetic nervous system into balance with the parasympathetic nervous system and thus reduce the negative effects stress may have on the musculoskeletal system. Inhalation can be via a diffuser, or from body oil.
---
*Symptoms of High Blood Pressure: Headaches, persistent morning headaches, eye and vision problems (seeing lights) or vision disturbance (temporary visions), dizziness, more than several readings of raised blood pressure (normal is about 120/80 systole/diastole), sweating, rapid pulse, shortness of breath, swollen ankles, elevated cholesterol. Check with your medical advisor
---
WHY FLUTTERBYE HANDCRAFTED SOAPS?
Flutterbye offers a wide variety of All Natural, handcrafted soaps.
Our soaps are scented with pure essential oils which provide a somewhat subtle aroma. We do not use synthetic fragrance oils which provide a much more intense fragrance, but can be a source of irritation to many people. We think you'll appreciate the subtle scent of our soaps once you experience the skin loving effects of the essential oils.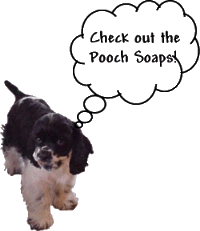 Our soaps are made from fine plant oils, including hemp oil, olive oil, sweet almond oil, avocado oil, coconut oil, castor oil; some contain rich shea butter, cocoa butter, mango butter, jojoba, Goat's Milk, flowers. Some are embedded with gently abrasive natural clays, seeds, and herbs which provide gentle exfoliation.
Each batch of soap is handmade from scratch, hand stirred, hand cut, and cured here in our kitchen. Each bar has its own unique fragrance and color, rich lather, and beneficial skin care properties. Because each batch is handmade and unique, there may be slight variations from time to time. To lengthen the life of your soap, please use a draining separator so that the soap will remain dry between uses.
Unlike commercially produced detergent bars, our handcrafted soap is laden with naturally produced glycerin, a natural moisturizer for the skin. Our soaps are non-comedogenic (won't clog pores), so please feel comfortable selecting Flutterbye soaps for your face.
Give us a try ~ your skin will show you the difference! Many of our customers report that they no longer need to use lotion after bathing! We hope our skin pampering soaps will become your favorite skin care products!
FLUTTERBYE SOAP SPECIFICS:
Some of our soaps have HEMP OIL in the base. Hemp is a very earth friendly material and is wonderful for the skin. High in protein and vitamins, it's also full of omega-3 and omega-6 fatty acids which leave the skin feeling very soft and supple, ideal for dry skin.
Hemp is renowned for helping to moisturize, nourish, and replenish damaged cells and soften dry skin. It is also one of the few oils which is absorbed transdermally and provides health benefits, which means it permeates deep into the skin cells to prevent them from drying out and dying, resulting in younger, healthier looking skin. We use an organic hemp oil so we are absolutely sure that all of the benefits from hemp are positive and are supporting healthy environmental farming.
Some of our soaps contain rich SHEA BUTTER which soothes and moisturizes. It contains essential fatty acids that improve the elasticity of the skin; some have JOJOBA OIL, which aids in the recovery of damaged skin, is very moisturizing and luxurious. Several of our soaps have pure MINERAL CLAY from the earth in the base. You know how important it is to detox your skin with mineral clay which renews the dermal cells and eliminates dry, flaky skin; it's even great for the scalp! So don't hesitate to try your favorite soaps as shampoo!
GOAT'S MILK is full of vitamins, rich in protein, naturally homogenized (the milk and cream have not separated) making this an excellent additive for those with dry or sensitive skin. Lactic acid, found in milk products, is found to be an excellent moisturizer and softening agent. Goat's Milk makes a very luxurious soap.
All these wonderful ingredients in the soaps, along with the PUMICE in the Working Hands soap will enhance your natural beauty!
SIZES: The size of our soap is larger than it was previously, it is now a big, chunky 5 to 5.5 ounces. However, if you have a special need for a smaller or larger sized soap, please let us know and we will work with you on this. The soap can be cut with a regular kitchen knife to make a smaller bar or to divide it with a friend!
We hope you'll be pleased with our soap bases and selections, not only for their pure beauty and effectiveness, but also for their gentleness.
Thank you for your support of our small, environmentally friendly company ~ it allows us to support and buy from other like-minded small and environmentally friendly organic farmers and co-ops.
Handmade soaps will become soft and melt quickly if not cared for properly. Please use a draining separator to prolong the life of the soap.
---
If your baby already has a diaper rash, wash the baby's skin with Neem Soap and dry with a clean towel. Then apply Baby Ointment to soothe the baby's skin, prevent diaper rash and to keep the baby's skin protected from moisture.
All babies get a red or sore bottom from time to time, even with frequent diaper changes and careful cleaning. Some common reasons for diaper rash include:
Irritation from a new product. Your baby's skin may have been irritated by disposable wipes, a new brand of diaper, a new brand of detergent, fabric softener or bleach used in the laundry. If you suspect any of these, change to a brand that hasn't bothered the baby before. Generally you'll have better results if you use the products that have few additives.

Chemicals in new clothes. Wash all new clothing and bed linens before using the first time.

Sensitive skin. If your baby's skin is sensitive, change diapers frequently, washing the area with clear water each time. Allow your baby's bottom to air dry. Use soothing Baby Ointment any time pinkness occurs. The Baby Lotion Bar is perfect for daily use.

Bacterial or yeast infection: These can cause an irritating skin rash. If you suspect yeast, try Black Walnut & Tea Tree Ointment. If the rash is not responding, it may need medical treatment. Contact your doctor if your baby has a rash that is not improving and lasts more than a few days.
To help prevent diaper rash, avoid using super-absorbent disposable diapers since they tend to be changed less frequently. If using cloth diapers, wash and double rinse the thoroughly. Select snap-on plastic pants instead of elastic binding for better air circulation.
---

(aka Calophyllum inophyllum & Tamanu Oil)

This marvelous oil is hydrating, has anti-inflammatory properties, helps regenerate skin cells, and was originally used to treat leprosy.
It is an excellent pain reliever and good for conditions such as sciatica, rheumatism, shingles and inflammatory skin conditions.
It is highly anti-bacterial and has been traditionally used to help heal cuts and wounds while acting as a germicide to prevent infection. Excellent treatment for vaginitis, cervical erosions, eczema, psoriasis, chapped skin, cracked nipples, burns, infected wounds, etc.
---
GOAT MILK
GOAT MILK contains lactic acid, an alpha hydroxy acid that aids in breaking down dead skin cells, allowing the skin to naturally rejuvenate (exfoliation -- it sloughs away dead skin, leaving the remaining skin more radiant.) The skin needs certain vitamins and minerals to stay healthy. Goat's milk contains A, B1, B6, B12, C and E vitamins. It also contains minerals such as citric and amino acids, as well as zinc. These vitamins and minerals help slow down aging, help the skin rebuild, and add elasticity and help retain skin moisture.
pH Reducer: The lower the pH of the skin, the more acidic the surface of the skin is. This allows the skin to fight bacteria. Goat milk has been proven to aid in reducing acne; so much so that many dermatologists recommend it to their patients as a natural path to healthy skin. And -- it's packed full of wonderful luxurious cream! It also contains probiotics which are living microorganisms that help protect the skin.
---
HOW TO USE THE SCRUB
Use the scrub 1 - 3 times per week

Shower as usual, letting the warm water open your pores. You may want to turn the shower off at this point to fully experience the invigorating scrub.
Swirl the salts and oils to blend, scoop some onto your fingers and apply liberally to your whole body, starting with your heels and working up, gently working the salt scrub into your skin with your fingertips where it will remove the dead skin cells and allow the oils to penetrate the pores of your skin.

Rinse off with warm water and pat dry with a towel.
We do not recommend using soap after your body treatment since it would defeat the moisturizing purpose of the scrub. You'll be amazed at how smooth and soft your skin will feel when dry.
Shaving: Use your body scrub treatment first, then shave after rinsing the salt from your skin. The layer of oil left behind helps your razor glide over your skin. You'll get a closer, more comfortable shave.
The exfoliating action of the salts opens clogged pores, leaves your skin feeling soft with a light layer of luscious oil.
Dead skin can create a bathtub ring and may be gummy and difficult to remove if not rinsed out thoroughly after your shower. Rinse the residue from the bath surface after you shower and be careful. . . the residual oil can be slippery on the tub or shower surface.
---
Developed to protect against common stressors and not-so-common stressors which wreak havoc on the immune system, such as:
Extreme personal stress: divorce, death of loved one, separation from family, loss of job, deployment, life-altering events;
Medical trauma: chemotherapy, radiation, surgery, onset of disease such as arthritis, diabetes, chronic fatigue syndrome, fibromyalgia, hypertension, etc.;
Day-to-day environmental prevention: travel in confined space (airplane, bus, train), heated classrooms where cold, flu and virus spread, public bathrooms, restaurants, grocery stores, shopping stores ....
Tried-and-true natural remedies work more slowly, but usually more effectively, than drugs and antibiotics -- but when it comes to cold and flu, essential oils such as the ones in this proprietary blend are prized by healers and naturopaths.
For prevention and treatment, choose from or layer the products:
Immune Boost Blend (for diffuser, bath, tissue)
Immune Boost Body Oil (use like lotion)
Therapeutic Roll On (apply to skin and sniff throughout the day)
Super Immune Boost Blend
Super Immune Boost Body Oil
[The Super blend contains additional EOs such as ravensara and thyme.]
User Comments

"I sometimes mix my own blends but have not been able to match the power of this Immune Boost. I found it to be a great product when I was knocked out with a bad flu. The smell is not overwhelming or nauseating. I think it's just perfect"

"The smell of this blend is nice, not what you would expect from a medicinal blend you might find in a store."

"I had a sore throat coming on, and the back of my throat was painful. Tucked a tissue with a few drops of the Immune Blend in the front of my shirt so that I could constantly inhale the aroma. A couple of hours later, I noticed that my throat had stopped hurting. This was a great find!"

"I rub the Immune Body Oil on the bottom of my feet every night before going to sleep as well as in the morning. A few drops of the Blend in a hot bath with the Dead Sea Bath Salts helps to keep the cold and flu away as well."

"I dab a little under the nose before bed. Thrilled with this blend."

"I added the Immune Blend to my household cleaner and I also love to use it in the shower."

"I just open the bottle and take a sniff everyday. It's great!"

"Immune Boost is a favorite blend for protecting my family. I add it to the homemade cleanser recipes Simone shared years ago and I still use today: basically baking soda, vinegar, water, and the essential oils to clean my floors, kitchen and bathrooms. It leaves a fresh lean scent in the house while killing virus and germs, we've been very healthy."

"I use the immune blend for prevention, but if I slack up and catch a cold, I pull out the Cold & Flu blend. I love aromatherapy and using natural and safe essential oils. Thank you for all the wonderful Flutterbye products, I feel so secure using these products."

---
CLINICAL STUDIES OF HERBAL BATH EFFECTS

Medicinal baths for treatment of generalized fibromyalgia by K. Ammer and P. Melnizky
Ludwig Boltzmann Forschungsstelle fur Physikalische Diagnostik, Wien, Osterreich
Published in: Forsch Komplementarmed 1999 Apr; volume 6(2): pages 80-85
Abstract:
OBJECTIVE: We studied whether whirl baths with plain water or with water containing pine oil or valerian have a different influence on pain, disturbed sleep or tender point count.


METHODS: A randomized, comparative and investigator-blinded study was performed. Out-patients with generalized fibromyalgia were randomized into three treatment groups.


INTERVENTIONS: Therapy consisted of either whirl bath with plain water or with the addition of pine oil or valerian. The baths were carried out 10 times, three times a week.


MAIN OUTCOME MEASURES: General pain, change of pain intensity during the day, general well-being and occurrence of disturbed sleep were recorded before and after the therapy. The number of tender points was assessed by digital palpation, the pain threshold on the shinbone and the middle part of the deltoid muscle was measured by the dolorimeter of A. Fischer. The same instrument was used for recording pain threshold and pain tolerance of both trapezius muscles. The tissue compliance of these muscles was measured as well.


RESULTS: 30 out of 39 patients included in the study were evaluated statistically. After treatment with valerian bath (n = 12) well-being and sleep were significantly improved and also the tender point count decreased significantly. Pine oil added to the bath water (n = 7) resulted in a significant improvement of well-being, but unfortunately also in a significant decrease of pain threshold of the shinbone and the right deltoid muscle. Whirl bath in plain water (n = 11) reduced general and maximum pain intensity significantly.


CONCLUSIONS: Our cautious conclusion of this study is - with respect to the small number of treated patients - that different effects of whirl baths with or without medicinal bath oils can be detected in fibromyalgia patients. Plain water baths modify the pain intensity, medicinal baths improve well-being and sleep.

---
Our customers are reporting excellent results when using a combination of the Flutterbye Hot Flash products.
Use the Bath EO blend as a therapeutic soak before bed in tepid water, just slightly warm, soak for 10 minutes, inhale the vapors.
While still damp, apply the Hot Flash Body/Massage Oil just as you would lotion.
Before bed, and anytime you feel a flush coming on during the day, spritz with Hot Flash Hydrosol Blend.
Run Hot Flash Synergy in your diffuser.
Use the Hot Flash Therapeutic Roll On throughout the day, inhale often.
*Add EFAs (Essential Fatty Acids/Evening Primrose Oil) to your diet and avoid heated rooms.
---

Botanical Name - Rosa rubiginosa
Origin - Chile
Extraction - Cold Pressed
Shelf Life - 12 - 18 months (refrigerate to extend shelf life)
Notes: This particular oil is imported from Chile and is also commonly known as "Rosa Mosqueta." Because of its delicate nature and the cold press method of extraction, it should be kept refrigerated.
Rosehip Seed Oil for Skin Rejuvenation
Rosa Affinis Rubiginosa or commonly known in Chile as Rosa Mosqueta
What is Rosehip Seed Oil? Botanical Rosa Mosqueta is a truly remarkable oil with outstanding skin rejuvenating properties. Rosehip Seed Oil has been used by generations of the Andean Indians of Chile who recognize its healing and skincare benefits. Lightly massaged into the skin, this oil acts on the cell membranes, supports their immune reaction, and initiates their regeneration.
Rosehip Seed Oil as a Moisturizer
Rosehip seed oil penetrates the skin's upper layers very quickly, making it a superb moisturizer. It supports the keratin migration cycle that is responsible for the natural regeneration of skin cells. After using Rosehip seed oil, there is an increase of renewed cells in the epidermis. The cells also produce more collagen and elastin, which make the skin look smoother, firmer and more supple. The natural process of removing old skin and cleaning hair follicles is enhanced, giving a cleaner, youthful appearance.
Rosehip Seed Oil is an excellent natural moisturizing oil for routine daily skin care. In addition to its healing of sensitive, allergic, sun damaged, hyper pigmented, dry, aging, or problem skin, it also provides immediate relief for dry skin and eczema.
Morning and evening, gently massage 3-4 drops of Rosehip Seed Oil into your skin for about 30 seconds (this helps the oil to penetrate more deeply).
Overnight, this light oil allows your skin to breathe, while it repairs itself and generates new cells (to get your "beauty sleep"). Rosehip seed oil can also be heated and massaged into dry or flaking areas of the hair and scalp as a moisturizer and hair repair oil. Dermatologist tested, its mild pH (around 5.1) makes it ideal for direct application to the hair, scalp and skin.
Rosehip Seed Oil for Scarring
Extensive studies have shown Rosehip Seed Oil to have a positive effect on scars and stretch marks. Scars caused by injury or surgery are effectively treated to reduce the red coloration and the appearance of lumps that often occur. Rosehip Seed Oil can be applied as soon as the initial healing has taken place. Excellent results have been obtained through its anti-inflammatory properties in improving burning skin and dermatitis caused by radiotherapy. May be combined with Calendula infused oil to treat stretch marks, burns or scars.
Rosehip Seed Oil has been known to aid in the regeneration of scar tissue. Stretch marks and existing scars can be effectively faded with regular use due to the improved elasticity of the skin and the skin softening and moisturizing properties of Rosehip Seed Oil. It is also useful in reducing old acne scars and pigment spots, although it is not recommended for very oily or acne skin types.
Rosehip Seed Oil for Aging or Damaged Skin
Rosehip Seed Oil has remarkable skin rejuvenating properties. It is extremely effective against irregular skin pigmentation, burns, and early aging wrinkles. In fact, Rosehip Seed Oil is recommended for people who spend much of their time in the sun as it reduces the appearance of wrinkles and premature aging often associated with exposure to the sun. Scientific research has shown that the oil contains substances that retard the aging process of the skin. A five-month study of women living in sunny climates who showed symptoms of photo-aging, or surface wrinkles, brown spots, eyelids, etc., revealed that applying Rosehip Seed Oil everyday actually worked in causing surface wrinkles to disappear, spots to fade until, as the end of the fourth month, the disappearance became almost complete. Skin presented a smooth and fresh aspect and the spots had almost disappeared.
The positive action of Rosa Mosqueta - Rosehip Seed Oil in helping to regenerate damaged skin tissues was originally attributed to its high content of essential unsaturated fatty acids, namely oleic (15-20%), linoleic (44-50%) and linolenic (30-35%). They are called "essential" because our body is not able to produce them.
Rosehip Seed Oil and Trans-retinoic Acid (Vitamin A)
Rosehip Seed Oil is an excellent source of topical trans-retinoic acid (vitamin A) in a natural form. Retinoic acid, found in Tretinoin, also called Retinol (Vitamin A), is a topical application for treating a variety of skin disorders which has been well researched and recognized for almost 30 years. Synthetic Tretinoin is a very strong substance and must be applied under medical supervision with possible undesirable side effects. Rosehip Seed Oil, however, produces all the benefits of Tretinoin, but without the undesirable side effects since it is in a natural state as part of a complex system of unsaturated fatty acids.
Prevents the lines that form around the lips when applied to that area.
---
SEA BUCKTHORN OIL
(Hippophae Rhammoides)
One of the most well recognized properties of Sea Buckthorn is nourishing, revitalizing, and restorative action on the skin and mucous.
The oil is extracted from the berries and promotes healing of heat burns, radiation burns, sunburns, poorly healing wounds, eczema. A high content of fat soluble vitamins (A, E) and nutrients (EFAs, phytosterols) makes Sea Buckthorn an indispensable ingredient in restorative, anti-aging and revitalizing skin care. Sea Buckthorn oil effectively help combat symptoms of malnourished or prematurely aging skin.
Sea Buckthorn oil has gained popularity in sun rich areas due to its radiation protective action. Natural antioxidants and highly bioavailable nutrients help reverse damaging effects, reduce skin inflammation, promote natural restorative processes, minimize long term effects of sun exposure like wrinkles, dryness, dark spots.
For all skin types!
You'll find Sea Buckthorn Oil in many of my skincare products, including Make Up Remover, Soothing Aftershave, Eye Balm, Rose Help Scar Treatment, Facial Oils, Avocado Skin Saver, and Herbal Complexion Oil.
---
AHAs: Alpha hydroxy acids of citric and malic acid from organic lemon peel and organic bilberries, ascorbic acid from organic orange peel, glycolic and lactic acid from organic cane sugar, tartaric and oxalic acid from organic cranberries.
HA: The polymer hyaluronic acid is an important natural component of skin produced by fibroblast skin cells, which decreases as we age. Skin starts losing hyaluronic acid as early as age 18, but wrinkles and other skin damage from hyaluronic acid loss don't generally show up until the late 30s or early 40s. Preserving or regaining hyaluronic acid is the goal of skin care specialists and products that can help with these tasks can keep skin supple and youthful-looking. This HA is a vegan source. All Flutterbye products are Cruelty-Free.
Retinyl Palmitate is a form of Vitamin A. It is produced from Retinol (Vit A) and palmitic acid (a fatty acid). It is easily absorbed by the skin and turns into retinol. It reduces flaking and restores suppleness, improving the appearance of dry and damaged skin. It is an effective antioxidant, improves collagen production, plumps skin, helps smooth out fine lines. If used in the morning, follow with sunscreen as it can be photosensitive.
---
Louis Pasteur discovered pasteurization, the method of heating milk to kill harmful bacteria. Years later at the pasteurization institute, Elie Metchnikoff researched and discovered the health-promotion capabilities of lactobacillus bacteria when he observed that people who ate yogurt tended to live longer.
More than 400 different kinds of bacteria live in our gastrointestinal tract. The body depends on beneficial bacteria to manufacture B vitamins as well as to produce lactase and other antibacterial substances.
60 to 70 MILLION AMERICANS SUFFER FROM DIGESTIVE DISEASES (According to the National Digestive Disease information clearinghouse in Bethesda, MD.)
Commercial food processing procedures often destroy viable beneficial organisms, making it difficult for the body to maintain good intestinal flora. Even the majority of yogurt products no longer contain a viable acidophilus culture. Preservatives, additives, high-fat diets, alcohol, birth control pills, and stress can all result in poor intestinal flora. Antibiotic drugs are especially damaging to intestinal flora and kill all kinds of bacteria, both good and bad. The effects of antibiotic use on intestinal flora can last for weeks even after the drug is discontinued; often leading to yeast overgrowth, chronic infections, poor digestion, fatigue or allergies.
Acidophilus supplements can reintroduce beneficial bacteria into the system. Important benefits of acidophilus supplementation can include:
Keeping constipation and diarrhea under control
Counteracting lactose intolerance by its association with lactase
Reduction of bad breath
Reduction of internal gas
Cholesterol control by promoting normal absorption of dietary fats
Suppression of candida yeast
Suppression of a number of intestinal disorders
Prevention of intestinal contamination from infectious organisms common in some foreign countries
Sources:
Stay Healthy With Nutrition, Elson M. Haas, M.D., Celestial Arts Publishing 1992
Nutrition Science News, Anthony Cichoke, D.C., August, 1997
Intestinal Bacteria and Health, T. Mitsuaka, Harcout Brace, 1978
Annals of Internal Medicine, H.D. Hilton and P. Isenberg, 1992
---
Colicky babies cry constantly and hard at about the same time each day at least three days a week. Usually seen between 2 weeks and 6 months of age.
Eliminating gas-producing foods and using supportive herbal or homeopathic therapies can help reduce or eliminate infantile colic. In addition, playing soft music, rocking the infant, or using "white noise" may be helpful in soothing the infant. Reducing stimuli and placing the infant in a dim, quiet room may help calm the baby.
Herbs -- Unless otherwise indicated, teas should be made with 1 tsp. herb per cup of hot water. Steep covered 5 to 10 minutes for leaf or flowers, and 10 to 20 minutes for roots and may be given directly to the infant (1 tsp. before and after feedings) or drunk by the breast-feeding mother (1 cup three to six times per day). Both fennel and anise act as gastrointestinal relaxants and help expel gas.
Warm baths may help relax and soothe colicky infants. Add 2 to 3 drops of lavender essential oil and/or chamomile essential oil to enhance the benefit.
Clockwise abdominal massage may help relieve spasm and expel gas. Use Baby Massage Oil applied warm for extra help.
Acidophilus (especially Bifidus spp.) can be given to both the breast-feeding mother and infant. Use 1 capsule with meals three times per day for adults; 1 capsule per day for infants (break capsule open and administer powder in divided doses throughout the day
---
Key Benefits of helichrysum:
Reduces scarring: useful for scars from wounds, surgical scars, acne. Heli has been found to reduce discoloration from old scar tissue.
Decreases swelling: helps to minimize swelling from bumps and bruises. Most effective when used as a compress or soak right after the injury occurs.
Effects on inflammation: used in clinical practice for joint and muscle inflammation.
---
If you have been diagnosed with Rosacea, it is important to take special care of your skin, and to know how and what to use to cleanse your face -- and to keep your skin cool and moist.
We recommend a regular cleansing routine using Emu oil soap; we recommend PLAIN JANE EMU SOAP. Since Emu oil is a "tissue nutrient", Emu oil soap is gentle to the skin and moisturizes it rather than drying it. It is also wonderful for all skin types, of course, but especially helpful for skin 'problems.' After washing your face with emu soap and rinsing in *lukewarm* water (never hot or cold), gently apply a HYDROSOL (Rose, Helichrysum or Chamomile) or our special blend of hydrosols, ROSACEA HYDROSOL BLEND .
Recommendations of the National Rosacea Society (NRS) are to apply a quality moisturizer to the skin after mild cleansing. For Rosacea, we recommend applying pure EMU OIL to your skin in the morning, and FACIAL OIL FOR ROSACEA at night. Emu oil is an excellent skin moisturizer which penetrates deep into the many layers of the skin. Emu oil mirrors the composition of the lipid profile of human skin. Additionally, emu oil contains anti-inflammatory properties. The FACIAL OIL FOR ROSACEA contains jojoba, emu and other specialized oils including plant extracts with anti-inflammatory, anti-bacterial and anti-redness properties, along with essential oils that specifically target inflammation, couperose veins, and heat. The ROSACEA HYDROSOL BLEND contains several special hydrosols that target inflammation, couperose veins, heat, and redness. ALL FLUTTERBYE facial care products are noncomedogenic and will not clog pores.
Routine for basic care of Rosacea:
1. Wash with emu soap
2. Tone with hydrosol (also removes any traces of soap)
3. Moisturize with pure Emu Oil in morning, Facial Oil at night.
About Rosacea:
Rosacea flare-up usually begins with flushing of the face, most noticeably the nose and cheeks. This facial redness is the most obvious symptom. Other problems may include dry skin, itching, with burning and stinging sensations. Signs to look for are facial redness, visible damaged blood vessels, bumps and pimples, irritated eyes and, in severe cases, enlarged nose.
Such a chronic and hereditary skin disorder can be further aggravated by external sources such as sunlight, extreme hot or cold temperatures, spicy foods, and alcohol, as well as physical and mental stress. Although there is no known cure for Rosacea, there are measures that can be taken to control flare-ups and lessen the chance of reoccurrences through dietary changes, lifestyle adjustments, and proper skin care which will help alleviate the symptoms and assist re-normalizing of the skin.
Why use Flutterbye Oil products on Rosacea skin?

Rosacea is more complicated than just plain acne vulgaris (pimples). Many rosacea sufferers have thin, sensitive skin that is inflamed, easily irritated, dry and flaky. It is not uncommon for rosacea skin to sting when applying cleansers, moisurizers and other products. This is a reaction to chemicals such as fragrances, preservatives and emulsifiers found in most products, even prescription products. Our Flutterbye products are advantageous because they do not include chemical preservatives in their formulations. Hence, they are well tolerated by rosacea sufferers (I am, myself, an example!). An oil-product, when applied while the face is still wet, will not leave a greasy residue. It seals the water in and serves as a thin layer of soothing moisturizer. Not all oils are beneficial for rosacea sufferers. It is important to use an oil that is light in feel, penetrates easily and will not cause acne. All of the ingredients in our products are very carefully selected and I am constantly re-evaluating my formulas. I am always on the lookout for new information and any newly available natural ingredients that may be helpful. I then, of course, carefully test any change in my formula on willing friends ☺.
[BACK]
---
Like Rhassoul clay, Moor Mud is another of Mother Nature's wonders. Millions of years old, Moor is an astonishing mud composed of plants, mineral and trace elements, organic substances such as volatile oils, amino acids, resins, phyto-hormones, vitamins, enzymes and natural antibiotics.
This amazing, natural mud works to control oil and excess sebum while providing depleted nutrients and trace minerals to your skin.
[BACK]
---
The mink is the only mammal immune to any diseases of the skin.
Mink oil is very close in composition to human sebum and absorbs deep into the 15th subcutaneous layer practically on contact. This leaves the skin moisturized, but not greasy. It is wonderful for not only preventing wrinkles, but "lifts" the wrinkles that are already there, leaving behind smoother and tauter skin.
For freckles and liver spots, mink has been shown to remove the horny substances for new inside flesh to sprout up. Mink oil has been found effective for healing wounds more rapidly and reduces the appearance of scar tissue. Some have said that if you apply Mink oil continuously, the nourishing ingredient absorbs deep in to the hypodermal tissues so Mink oil recuperates the dermis structure, that stretch-marks are diminished and are gradually removed to a great extent.
An unusual application for mink oil was published in Diabetic Care, Vol. 8, No. 4, Sept-Oct. 1985. Richard K. Bernstein, M.D., reported great success with mink oil in treating diabetics' feet. (Cracked skin in Type 1 and Type II diabetes is often developed.) Dr. Bernstein prescribes mink oil, applied twice daily. "We find it more effective and more acceptable to patients than other emollients, requires less rubbing for absorption."
---
Minerals and naturally occurring chemicals found in the Dead Sea:

Sulfur is necessary for the secretion of bile from the liver and for converting toxins into non-toxins. Sulfur is found in the amino acids cysteine, and methionine; as well as in cells, hemoglobin (of the blood), collagen (of the muscles), keratin (required for skin), insulin, heparin, biotin and co-enzyme A (required for healthy hair, skin, nails, among many other biological structures). Sulfur is necessary for synthesizing collagen. It is required for the adequate digestion and absorption of carbohydrates and a number of vitamins e.g. thiamin, biotin and pantothenic acid; It is also essential to enable cells to breathe.

Chlorine is necessary to maintain the correct balance of alkaline and acid in the body, together with being vital for cell metabolism.

Iodine is necessary for the production of the hormone thyroxin, and is also vital for both energy and cell metabolism.

Potassium is necessary to maintain the water balance in order for cell metabolism to take place, assisting the cells to absorb nourishment and expel waste products. An imbalance in potassium often leads to water retention. Potassium also plays a vital role in regulating muscle contractions and the nervous system.

Sodium, like potassium, plays a vital role in assisting the cells to absorb nourishment and expel waste.

Calcium is necessary in strengthening cell membranes and cleansing the pores. In addition it is vital for production and maintenance of healthy teeth and bones, together with regulating the heart muscles and nerves.
Magnesium is necessary in assisting the body to utilize other essential nutrients and in cell metabolism.
Bromine helps with the natural repair of the body together with cell metabolism and can be used as a natural antibiotic.

[BACK]
---
USING YOUR THIEVES BLEND:
To sanitize and purify the air in your home or workplace, place 2-3 drops of the Thieves synergy in a diffuser, nebulizer, or in a pot of simmering water on the stove. Diffuse for approximately 30 minutes. This is especially beneficial if someone in your home or workplace is sick.
Make an antibacterial all-purpose spray for cleaning and disinfecting your home or workplace. This is perfect for office spaces and shared areas. Fill a spray bottle with water and add the Thieves synergy at a 1-2 % dilution rate. Spray on counter tops, desks, and on other surfaces. Make sure to shake before using as the oil and water will naturally seperate.
A 1% dilution = 1 drop EO per 1 tsp. carrier oil; 2% = 2 drops per tsp, and so on.
ABOUT THIEVES BLEND
Studies indicate the blend of clove, cinnamon bark, lemon, eucalyptus radiata, and rosemary will kill 99.96% of all airborne bacteria.... however, these oils are very strong and should be used in short periods of time; diffuse for 30 minutes on, 2 hours off, etc. I have added lavender to this blend. Because some of these oils are considered "hot" oils, (cinnamon, clove), only use for diffusing or cleaning, avoid dermal use. There are more appropriate oils for topical needs. This blend would need to be diluted so much that it's not realistic for topical use. Diffusion is the choice application for all needs, particularly illness prevention, immune stimulation, etc. Use appropriate oils topically for an actual physical problem like sore muscles, joint pain, etc.
If you have any questions or feedback, please email me.
---
PROPERTIES:
Antiseptic for eyes
Antihistamine - allergy
Mucolytic and expectorant
Fungicide
Immuno-stimulant
USES:
Acne
Eye Irritation
Skin Mycosis (fungal infections affecting the skin, nails, and hair - ie., ringworm, etc.)
Internally, helpful with stomach cramps, respiratory coughing, may help reduce urge to smoke and regenerate lungs
---
Opuntia ficus indica
Origin: India
Extraction: Cold Pressed/seeds, organic
Shelf life: three to four years if refrigerated
Notes: This particular oil is imported from India and has a very high anti-oxidant level with a nice long shelf life of 2-4 yrs under ideal conditions; however, it is best to keep your bulk amount refrigerated and refill your smaller working bottle as needed.
Details: Prickly Pear is also known as Indian fig opuntia, Barbary Fig, Cactus Pear, and Spineless Cactus. Growth flourishes in arid and semiarid climates. India, Morocco, and Tunisia produce the largest amounts of premium Prickly Pear Seed oil of all worldwide growing locations. Some use the fruit for making delicious jams and jellies in addition to the nourishing skin oil. Prickly Pear oil has a faint aromatically pleasant subtle sweet smell like its ripe fresh fruit.
This oil is rapidly absorbed, highly moisturizing, leaves skin feeling velvety soft, improves skin elasticity, and is a valuable addition to anti-aging formulations. This oil is also excellent for dry and damaged hair.
Prickly Pear Seed Oil is one of the most effective skin nourishing oils available. Packed with Vit E and essential fatty acids, Prickly Pear oil is a potent antioxidant and free radical scavenger. It has the highest Vitamin E content of all carrier oils including three times that of Argan Oil.
The arduous task to produce premium quality Prickly Pear oil first begins with gathering the fruit and separating seeds by hand from the fruit pulp. Seeds are then dried and cold pressed, virgin, unrefined. Prickly Pear seeds contain little oil, only about 5%, so to make this precious oil about ˝ ton is necessary to produce just 16 ounces, making it one of the most expensive carrier oils.
Uses and Benefits of Prickly Pear Seed Oil:
Refines skin and tightens pores
Non-comedogenic (will not clog pores)
Anti-inflammatory – excellent for sensitive skin
Anti-wrinkle
Lightens dark spots/age spots
Brightens under-eye shadows
Protects skin against free radicals
Quickly absorbed by the skin
Penetrates deep into skin layers
Restores Elasticity – Excellent for mature skin
Brightens skin tone
Highly nourishing and moisturizing
Hair Care
Nail Care
---
ROOIBOS is enriched with an excellent antioxidant known as superoxide dismutase. This antioxidant is an excellent anti-ageing substance. Superoxide dismutase present in rooibos helps in reducing wrinkles and boosts the production of healthy skin cells. The high levels of flavonoid in rooibos help in preventing skin disorders like eczema and acne and contributes to healthier skin. Rooibos possesses anti-bacterial and hypoallergenic properties. These properties help in fighting various bacterial infections on the skin and prevent them from occurring again. contains high levels of vitamins and minerals like vitamin D and zinc, which helps to make skin healthy.
*DMAE - 'The Facelift in a jar'
As a skin care product, DMAE has been referred to as "A Facelift in a Jar" and is thought to firm the skin by stabilizing the membranes, boosting acetylcholine, or reducing lipofuscin deposits. Whatever the mechanism, the effect of DMAE is not considered dramatic, but does often create noticeable results (Smart Skin Care). It does not provide the same results as a surgical face lift, but does reduce further facial sagging that occurs with aging. Even though DMAE can't fully reverse the existing facial sag, it may reduce its further progression.
**MSM for soft, deeply hydrated and bright skin
MSM has a softening, deeply penetrating effect on the skin when applied topically. It has the unique ability to penetrate several skin layers and therefore provides a better, more deeply hydrating and smoothing effect for longer periods of time. For this reason, it is one of the best ingredients to look for if you have chronically dry or mature skin that has lost a lot of its elasticity.
The sulfur compound also has an anti-inflammatory and skin-repairing effect, which may be useful for inflammatory skin conditions such as eczema, acne and psoriasis. It also may help smooth and soften acne scars and hasten the healing of existing lesions.
MSM helps make the skin cells more permeable, and therefore more absorbent and receptive to plumping and hydration. This means that if it is an ingredient in your facial moisturizer, it can help the other ingredients gain entry to the skin cells in order to hydrate them more effectively.
MSM helps even skin tone, diminish hyperpigmentation and age spots
MSM has been reported to help reduce hyperpigmentation issues such as melasma, pink or faded-red acne scars, age spots, freckles and sun damage both as an internal supplement and external application although most people consistently reported greater success when using it topically for this purpose. It has a brightening and luminizing effect on the skin overall when applied topically, and over time may also help reduce uneven skin tone and help correct areas of darker pigmentation as well.
---