LIP CARE
(I use lip balm tubes made in the USA and BPA free.)
"Simone, I wanted to give you an update on your Cold Sore products. My sister continues to use the preventative Lip Rescue Balm every day and still has not had an outbreak. We just got back from a cruise where she was in the sun daily and for many hours. Nada. So your product has passed the stress and sun tests and my sister is thrilled. She sends her thanks for formulating this product and I thank you for all that you do to help us feel and look fabulous! Hugs, Jen"

For chapped lips, cold sores and other skin needs
Tube ~ $7.50


Pot ~ $9.50


(the Pot is concentrated and best for active cold sores)

Lovingly handmade with healing in mind, but fabulous for any and all lips! Made with Melissa, Calendula, Echinacea, Rosehips (Vitamin C), St Johns Wort oil, Tamanu oil, natural beeswax, illipe butter, unrefined shea butter, essential oils, Vitamin E oil.
In studies, lemon balm (Melissa) has been shown to have polyphenols which provide antiviral actions. In particular, they help to combat and heal cold sores due to the herpes simplex virus (HSV). Applied to the affected area with clean fingers or a q-tip (if using the pot), Lip Rescue Balm should help heal cold sores in about 3-5 days. It should also help increase the time between outbreaks.
I've made this cold sore balm with five healing herbs that have been triple infused for a minimum of six weeks. The essential oils are not for taste or scent, the properties of these EOs are for healing and virus prevention.
---
VIRGIN OIL De COCO-CRÈME LIP SAVER BALM

Jumbo ~ $13.00

I used my favorite Organic Virgin Oil De Coco-Crème from my kitchen to make this luxurious lip balm. It is the purest form of coconut oil available. Most commercial coconut oils are refined, bleached, and deodorized, and some are even hydrogenated -- you don't want that on your lips. Others that are called "cold-pressed" still are fermented or heated, losing the natural vitamin E and tocopherols. Virgin Oil De Coco-Crème has rejuvenating, nutritional, and moisturizing properties. It is made by taking the fresh coconut meat, chopping it, and diluting it with water into a coconut milk. Then it is chilled and the chilled coconut milk is poured into a series of centrifuges (separators) to mechanically remove and separate insoluble proteins from the oil and the moisture. By separating these elements mechanically, no heat is used in any part of the process. This enables the product to retain the natural nutrients that nature gave the coconut including natural vitamin E, antioxidants, sterols and enzymes.
This balm's emollient, moisturizing, anti-aging, antiviral, antioxidant characteristics make it superb for rejuvenating and preventing dry, stressed and aging skin as well as delicate skin. So use it often on your beautiful lips and the skin around them!
Organic Virgin Oil De Coco-Crème, cocoa butter, sweet almond oil, candillila wax. (Vegan)
---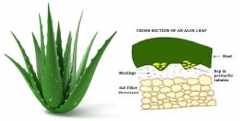 Tube~ $5.50


Jumbo Tube ~ $14.50

Wonderful aloe vera -- for lips that need special care, especially 'after sun & wind' care -- cracked, allergic, previously sunburned, sensitive, delicate lips and skin.
All natural ingredients: Organic Virgin Oil De Coco-Creme, organic Aloe Vera Butter, Aloe Vera Gel, candililla wax, sweet almond oil, Vitamin E oil.
---
Lip Tube ~ $6.50

The short ingredient list in SOOTHING LIP BALM is amazingly wonderful. The star ingredient is BABASSU OIL which is a superior emollient as it gently moisturizes the skin without leaving an oily sheen. It forms a protective, soothing coat with a pleasant, smooth feeling. Soothes itchy, dry, or inflamed skin. Naturally occurring phytosterols help renew skin cells.
Unscented.
Babassu oil, illipe butter, sweet almond oil, natural beeswax, Vit. E oil.
---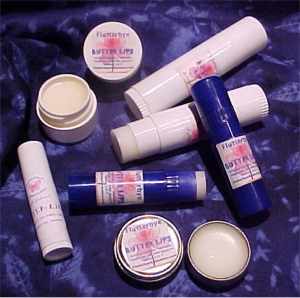 I have incorporated my formulas for Butter Lips and Lip Balm with Vitamin E into one product. You will love this new, enhanced formula with a deep concentration of Vitamin E which helps improve the skin around the lips and tones the lips.
Contains some sunscreen properties.
BUTTER LIPS will leave your lips soft and moisturized. No petroleum by-products, no, no. Three yummy butters: Mango Butter, Shea Butter and Aloe Butter to soothe, moisturize, nourish and protect even the driest lips. Use as often as desired, there are NO unhealthy additives to be absorbed. Unscented. May be mixed with mineral lip powders and may be used under lipstick.
No mineral oil
No artificial color
No artificial flavor
No synthetic fragrance
This fantastic product can also be used anywhere you have dry skin, i.e. cuticles, heels, dry patches ....
100% All-Natural Ingredients -- 95% organic
Unrefined Shea butter, Mango butter, Aloe butter, sweet almond oil, avocado oil, Vitamin E Oil, Meadowfoam Seed Oil, candillila wax
A size for all your needs:
Jumbo Tube - .5 oz. ~ $14.50
Medium Tube - .25 oz. ~ $8.50
Small Tube - .15 oz. ~ $4.50




$8.00 ~
---
---
Lip Jar

(0.15 oz.)

~ $15.00

---
Lip conditioning balm treats and prevents dry lips. Anti-inflammatory Argan Oil helps heal chapped or sensitive lips, provides long lasting moisturization. Argan's Essential Fatty Acids provide anti-aging properties to prevent lip lines, Evening Primrose Oil provides high GLA for problem skin support.
This is also fantastic as a cuticle cream. Multi-uses!
Organic Virgin Argan Oil, evening primrose oil, mango butter, shea butter, candillia wax, Vitamin E oil, rosemary lf ext.

| | |
| --- | --- |
| Small Tube ~ $5.50 | Jumbo Tube ~ $14.50 - |
A vey luxurious treatment balm for your lips, to keep them smooth and soft. This is the plumping formula with a high concentration of Vitamin E. Use often for beautiful lips. (Vitamin E helps improve the skin around the lips to prevent signs of aging.)
Ingredients: Shea butter, Vitamin E Oil, Sweet Almond Oil, Evening Primrose Oil, Avocado Butter, Rosehip Seed Oil, Aloe Vera Oil, Meadowfoam Oil, DMAE, Black Willow Bark, Natural Beeswax, Rosemary Extract.
---
Soothe, protect & moisturize.
This formula goes on easy, is creamy and feels wonderful! Its made with luxurious nut butters and oils that are incredibly soothing and nurturing to your lips, and is 100% All Natural.
Contains: Shea butter, Mango butter, Pure Grade A Emu Oil, Aloe Butter, Sweet Almond Oil, Meadowfoam Oil, Avocado Oil, Babbasu Oil, Vitamin E Oil, Beeswax, Pure Essential Oils
Emu Oil is considered a complete source of essential fatty acids. Essential Fatty Acids (EFA's) are fats that humans cannot manufacture or synthesize. We must obtain them from our diet. Like vitamins and minerals, they are essential to the body's functions. This incredible oil contains omega 3, 6, 9, essential fatty acids, is a powerful skin moisturizer, and possesses strong anti-inflammatory properties.
Emu lip balm can also be used on scrapes, bug bites, and other chapped areas.
You'll love it!